Discount Coupon: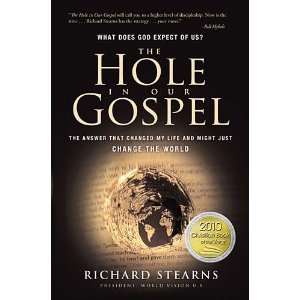 Named Christian Book of the Year (2010) by the Evangelical Christian Publishers Association.
"Inspires us as individuals to reconsider our basic decisions about life."  — Madeleine Albright
"The Hole in Our Gospel will call you to a higher level of discipleship."  — Bill Hybels
" …. a prophetic and hope-filled word for our day.  If enough people read it, and do it, the world will change."  — John Ortberg
The Hole in Our Gospel,
by Richard Stearns, President, World Vision US
Book Discount
We have arranged for you to purchase paperback copies of The Hole in Our Gospel at the discounted price of only $3.92 each.  There are no quantity restrictions, no strings attached; shipping charges are reasonable.
Please note that book purchases are made direct from World Vision Church Resources.
Givers by Design receives no fees, percentages, or other income from your purchase.
To receive the discounted price, simply click on the link below.  You will be taken the The Hole in Our Gospel's page at World Vision Church Resources.  At checkout, simply enter the discount code GBD when prompted in order to receive the special price of $3.92 per copy.
If you are a church group, please contact Jojo Palmer, World Vision Church Resources, directly at jopalmer@worldvision.org;  Jojo can help arrange for best shipping rates on BULK  purchases (10+ copies).
Be sure to mention the discount code above.